If your instructor has informed you that your class is now available to view, but you do not immediately see it, you may check your courses by changing the view filter on your Course Overview (on the Moodle dashboard) to "all." Another way is to use the filter on the Dashboard to view your past, in-progress, or future courses.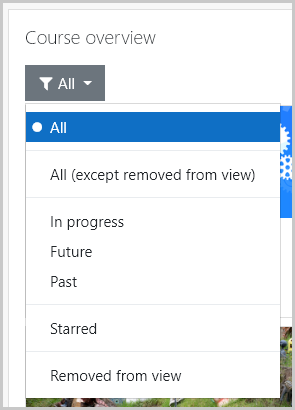 Alternatively, you can find all of your courses by going to your avatar in the upper-right and using the drop-down to get to your profile.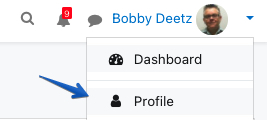 If you used to have access to a course, but it seems to have disappeared, it has most likely changed status from "In-progress" to "past." This can happen, especially if the course has ended, but you still have work to submit. You should be able to locate it by adjusting your Course Overview filter or going to your Moodle profile.
If you are still unable to locate your course after trying these two methods, it is possible that your instructor has hidden the course. They will need to unhide it for you to access it.
Important note about the beginning of each semester:
While there is an official "first day of classes," some Moodle courses may not be available until closer to the first session of the class (for example, the first day of classes may be on a Wednesday, but if a particular class is scheduled to meet on Tuesday each week, it might not have a Moodle available until closer to the following Tuesday).
Still have questions or concerns? Contact us!